U of T Engineering always strives to keep our students ahead of the curve and working with the best. To prep our students for the ever-changing landscape of the engineering profession, we continue to offer great choice, including new interdisciplinary minors, such as the Biomedical Engineering Minor beginning in the 2014-2015 academic year.
Choose from Six Unique Interdisciplinary Minors
1. Biomedical Engineering Minor
The healthcare sector is increasingly in need of engineers. This specialized program heeds that call by emphasizing opportunities in pharmaceutical and therapeutic technologies, medical devices, medical diagnostics, healthcare delivery, health regulatory and policy development, medical diagnostic technologies, biomedical devices and bioinformatics.
This minor prepares students for direct entry into applied biomedical engineering. They will specialize in areas of bioinstrumentation, biostatistics, biomedical laboratory techniques, biological and biomedical imaging, biomaterials development and processing, biomechanics and rehabilitation technologies, biosystems and quantitative physiology, and cellular, tissue and molecular engineering.
Faculty mentors will work with undergraduates upon registration to help select courses that are best aligned with their career objectives.
All Engineering undergraduates starting from Year 1 through to degree completion are eligible to pursue the Biomedical Engineering Minor, with the exception of students in the Engineering Science Biomedical Systems Engineering Option.
2. Engineering Business Minor
It's the beginning of a journey of engineer as entrepreneur. Students eager to make a valuable connection with the business field can pursue an Engineering Business Minor.
A powerful collaboration between the Faculty of Applied Science & Engineering and  U of T's Rotman School of Management, we are capitalizing on an emerging trend and redefining engineering with the business option. Students interested in the Engineering Business Minor will take a set of six half courses, including an engineering economics core course and three 'Joint Rotman Engineering' (JRE); core courses.
These three core courses will provide an overview of the world of economics, finance, business management and marketing. By studying how modern engineering business functions, the option will give U of T Engineering students a range of business-oriented and global-minded opportunities upon graduation.
All engineering undergraduates are eligible to pursue the Engineering Business Minor, with the exception of students in the Engineering Science Math, Statistics and Finance Option.
3. Environmental Engineering Minor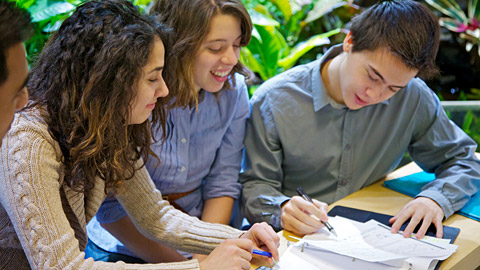 Engineers are known for imagining and creating solutions to adverse global issues. And none is greater today than that of the state of our environment. With an Environmental Engineering Minor, students have an opportunity to specialize in this very important and increasingly relevant field of study.
First introduced in 2009, this minor touches on topics such as ecology and ecological impacts, waste management, water and wastewater treatment, environmental microbiology, water resources engineering, hydrology, preventive engineering, life cycle analysis, design for the environment and the social and environmental impacts of technology.
All U of T Engineering undergraduates are eligible to pursue the Environmental Engineering Minor.
4. Sustainable Energy Minor
Future engineers will be asked upon to preserve our planet. The need for greener, more sustainable energy resources is critical – as is the need for more engineering expertise in sustainability. We are answering that call with a Sustainable Energy Minor.
Students passionate about sustaining our planet will get to learn about energy, its sustainable use, energy demand management and public policy relating to sustainability. Since 2009, the Sustainability Energy Minor has been immensely popular, with almost 200 students enrolled in its very first year.
All U of T Engineering undergraduates are eligible to pursue the Sustainable Energy Minor, with the exception of students in the Engineering Science Energy Systems Option.
5. Bioengineering Minor
Engineering and biology intersect in a variety of significant ways. Students interested in an engineering career in industries such as pharmaceuticals, healthcare delivery, agriculture and more, have an opportunity to explore – and prepare for – these fields with a Bioengineering Minor.
Those choosing this minor will engage in a range of research areas, such as bioprocess engineering, environmental microbiology, biomaterials, tissue engineering, bioelectricity, systems biology, biomedical imaging, biomechanical engineering, nanotechnology related to medicine and the environment, as well as engineering design for human interfaces.
All U of T Engineering undergraduates are eligible to pursue the Bioengineering Minor, with the exception of students in the Engineering Science Biomedical Option.
6. Robotics and Mechatronics Minor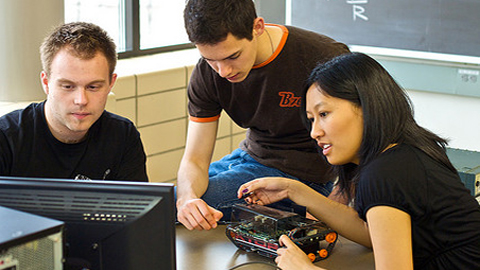 The minor option in Robotics and Mechatronics allows students to explore fundamental enabling technologies that render robotic and mechatronic systems into viable consumer products. Coursework  covers micro-electromechanical systems and nanotechnology, advanced techniques for signal processing and systems control, and new system-level principles underlying embedded systems.
Following on the creation of the Institute for Robotics and Mechatronics (IRM); in 2010, this new minor program is a collaborative effort between The Edward S. Rogers Sr. Department of Electrical & Computer Engineering, the Department of Mechanical & Industrial Engineering, the University of Toronto Institute for Aerospace Studies, and the Institute of Biomaterials & Biomedical Engineering.
Students take six half-courses – two required courses plus four electives – from a selection of offerings, including Microprocessors Applications (MIE); and Mechatronics Principles (MIE);, a capstone design course.
All U of T Engineering undergraduates are eligible to pursue the Robotics and Mechatronics Minor.
7. Nanoengineering Minor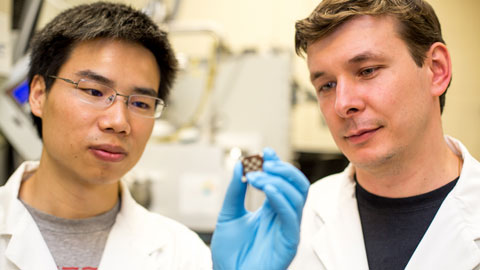 Nanoengineering, and its underlying science and engineering skills, has now become embedded in academic and industrial sectors spanning the electronics industry, communications, sustainable and legacy energy, medical diagnostics and devices, micro electrical mechanical systems, and new materials for the automotive, aviation, and manufacturing sectors. The minor provides students with an understanding of both the  structure and the application of nanomaterials and includes a range of electives connected to their core programs.
Students in the Nanoengineering Minor must complete of a minimum of six one-semester courses including mandatory and elective courses.
All undergraduate Engineering students are eligible to pursue the Nanoengineering Minor except students pursuing the Engineering Science Nanoengineering Option.
To Learn More
You'll find more course details on the current range of U of T Engineering undergraduate minors and certificates at: www.undergrad.engineering.utoronto.ca
Led by Professor Bryan Karney (CivE);, Associate Dean of Cross-Disciplinary Programs, the Cross-Disciplinary Programs office is a one-stop shop for students who are eager to enhance their engineering education at U of T. Since its launch in 2009, the office has been committed to offering distinctive interdisciplinary opportunities through leading-edge minors and certificates.
If you have questions ahout the minors, please contact the Student Counsellor for the minors, Sharon Brown, at cdp@ecf.utoronto.ca.