If you are producing merchandise that uses the Engineering logo you must consult with the Trademark Licensing Office at U of T. For further information please contact: www.trademarks.utoronto.ca. All products must be approved by the Trademark Licensing Office and must also be approved by the head of Communications in Engineering.
Any merchandise (e.g., tshirts, mugs, keychains, pens) imprinted with any University of Toronto logo must be produced by a licensed vendor who has been authorized to do so. For a complete list of licensed vendors, please visit 
www.trademarks.utoronto.ca
 This resource also outlines the process by which approval is granted to proceed with a merchandise order bearing any University of Toronto logo.
Circular Logo
For merchandise only, the circular Engineering logo (shown below) may be used. This is only available with the words "Engineering" and is not available for Departments, Divisions, or Institutes. The name of your department, division or institute can run in text below the circular logo but cannot be used in place of the word Engineering.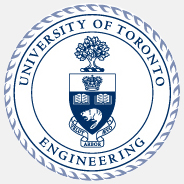 Skule Trademark
SkuleTM is a registered trademark of the University of Toronto and is governed by the U of T Trademarks program (managed by the Trademarks and Licensing Office, referenced above). All merchandise that includes the word Skule or a Skule logo must go through the same approval process as all other official U of T trademarks.