---
Email
Good Example:
Subject: APS101 exam room change: BA2176
Your APS101 exam on Fri., Nov. 20 at 12 pm will be held in BA2176 (no longer GB202).
Please contact me if you have concerns. I will cross-post this announcement to Portal.
Thank you,
Eleanor Rigby
Program Assistant, Office of the Chair
erigby@ecf.utoronto.ca | 416-946-000
This is an effective message:
subject line is specific and easy to skim/search later
content uses short sentences; draws attention to critical details by bolding
includes email signature
Poor Example:
Subject: IMPORTANT LOCATION CHANGE FOR YOUR APS101 EXAM
Unfortunately, due to unexpected facilities issues, the exam for APS101 scheduled for Friday, November 20 at 12 pm will be held in BA2176. Please contact me if you have any questions or concerns about this room change. This announcement will also be posted to Portal.
Thanks,
Eleanor Rigby
This message needs improvement:
subject line is indirect and hard to read in all caps
content is hard to skim; everything is lumped together with long sentences and extraneous information
no email signature
Do:
Include a descriptive and brief subject line, like a news headline.
Put the most important info at the top and use short sentences. Consider that many students read their email on mobile devices between classes. Brevity is best.
Include formatting that improves clarity: bullet points, bold/underline key information.
Separate content with subheadings or space between paragraphs so it's easy to scan.
Blind copy (Bcc) when sending a group message and it would not be appropriate to disclose everyone's emails.
Use your individual utoronto.ca address when the recipient(s) know you. If recipients are unlikely recognize you, consider using an account that represents your office instead. Students are more likely to open a message from a sender they recognize.
Embed links into your message. Consider using uoft.me addresses so it is easy to remember and can provide you with useful metrics.
Consolidate content so you don't have to send multiple messages to the same group within a short period of time.
Include your email signature in every message: name, title, contact details, URL
Include your email address in a message you are sending to a listserv and encourage recipients to reply only to you (not to the entire listserv)
Do not:
Use all caps in the subject line or for emphasis in the body of your email.
Send blanket reminder emails en masse; especially within a day of an event (unless there is a very good reason for doing so, like a location change).
Send large attachments. Rather, post the document online and provide a link.
Send messages that are unprofessional. Email is shareable. Always re-read email before you send to ensure it reflects how you want to portray yourself and your office.
---
e-Newsletters
Interested in submitting content to an existing newsletter distributed to engineering undergraduates across U of T Engineering? Download the Inventory of Faculty-wide Communications Vehicles for submission instructions for the following student-focused newsletters:
Student eNewsletter, Registrar's Office: Monthly newsletter to all engineering undergraduate students
First Year News Feed, First Year Office: Weekly newsletter to all Core 8 engineering undergraduate students
Skule Digest, Engineering Society: Weekly newsletter to all engineering undergraduate students
Content Planning
Do:
Theme content around timely and relevant student-focused topics.
Give your contributors precise deadlines to keep organized.
Find an interesting way to package your newsletter. For example, U of T's Office of Student Life produces a weekly newsletter called 9 New Things for all undergrads at the St. George campus. It's easy to skim, fun to read and well-received.
Track readership throughout the academic year. You may find that interest dwindles at certain times. This may result in shifting your schedule to retain attention.
Find interesting/creative ways to present the "must share" information that students may otherwise not pay attention to. After all, not all the information we need to share with students (e.g., fees deadline) is the most interesting content for students.
Do not:
Assume students open and read your newsletter. It is important to know how many recipients are opening your newsletters. One benefit of using a service like eNewsletter Pro for distribution is the built-in analytics. Sometimes testing small changes from issue to issue (e.g., experimenting with subheadings) can help you increase readership.
Treat recurring topics or sections differently for each issues. When readers don't find what they have come to expect, they become frustrated.
Issue newsletters when you don't have much to say. If you do not have a lot to communicate in one issue, consider postponing release.
Newsletter Writing
Do:
Use a subject line that previews the content (e.g., 10 Exam Prep Tips).
Prioritize your content. Put your most critical/urgent messages at the top.
Select the best/highest priority, most relevant content to share. The more interesting and relevant the content, the more likely students are to read it.
Use subheadings and formatting to help readers see what the newsletter covers
Include links to more information. This is an effective way to curb newsletter length.
If your newsletter is lengthy, include an "In this issue" section as a topics overview
Use bullet points and brief sentences (see best practices for email writing)
Include a link to view the newsletter in a browser
Do not:
Use generic subject lines that say nothing about the content (e.g., Newsletter volume 32, issue 3 – Feb 2016)
Include lengthy announcements or articles in your newsletter. If you do need to share a lengthy item, include a link to where that content is published elsewhere.
Make the newsletter a laundry list of items. Students want to consume information that will be helpful and interesting to them. It's your job to present the information in a way that makes the connection for them.
Include a welcome message. If it's necessary to include, keep it brief.
Newsletter Formatting
Do:
Include small, relevant images to draw focus to important information. If you plan to include images in your message:

include alt text (a concise description of what the reader would have seen if the image loaded properly) to increase universal accessibility.
optimize them for web in Photoshop ("save for web" under the File menu) to ensure the size of the image is not an issue

Use a template that segments different features in an attractive way. Your message should be easy to scan. It doesn't need to be flashy; above all, students appreciate a clear, concise message that is easy to scan.
Use a template that is responsive (adjusts to different screen sizes automatically) and easy to read on mobile devices.
Stay on brand. Be sure to consult the branding basics section for tips on colours, logos and other elements of U of T Engineering's brand.
Do not:
Create a newsletter that is completely image-based. If the images do not load, the content of your message will look empty. An image-based newsletter also poses problems from an accessibility standpoint.
Embed rich media like video or flash animations into your newsletter. They may be blocked and adds to the size of your message. Instead, include rich media on your website and provide a link.
Make it hard for students to take action if it is required. If you need students to register, include a "register" button or a clickable RSVP link.
Checklist: Before You Send
Ensure that all of your links work properly
Check for spelling and grammatical errors
Have a colleague with "fresh eyes" look over everything one last time
Send yourself a test email to make sure everything displays correctly
---
Digital (and Print) Posters
Flatscreen TVs across the Faculty allow our community to view digital posters. Each poster in rotation appears for approximately five seconds. Engineering Strategic Communications oversees the content management system, but communicators across the Faculty can upload their own artwork.
Digital displays are excellent ways to promote:
urgent messages in times of Faculty-wide emergencies
graduate studies opportunities within U of T Engineering
special Faculty-wide programs (e.g., ILead, Hatchery)
Faculty-wide campaigns (e.g., Iron Ring, course evaluations, Pink Shirt Day)
Engineering and U of T-wide events that are open to all engineering students (e.g., fairs, info sessions)
special messages (e.g., welcome back, congratulations graduates)
Good Example: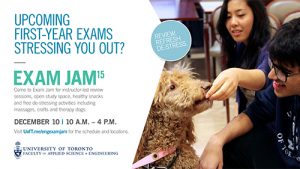 This poster is effective:
clear hierarchy of information
good use of relevant image
proper logo and brand usage
simple call to action with uoft.me URL
nice use of white space
legible text size
Poor Example: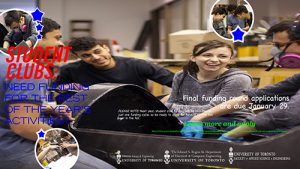 This poster needs improvement:
no clear hierarchy; confusing
too many fonts and colours (not compliant)
image and logos stretched
too much text and hard to read (too small and atop an image)
improper logo usage (more than one)
Do:
Design your artwork to be 1920 x 1080 px
Include the following elements:

Concise, descriptive title. Treat it like a news headline.
Short description of why students should care about what you're promoting. For events, include where and when it takes place.
Call to action: what do you want students to do once they see the poster? Visit a website? RSVP? Consider using a uoft.me URL.
Branding via Faculty logos, fonts and colours.

Create a hierarchy of information. This means putting the most important content at the top, and using different sizes to denote importance.
Streamline your info; make it easy for the eye to travel to the most critical pieces. Each slide will only appear for a few seconds. Too much information will not be read.
Do not:
Create your own logo if your unit does not have an official University-issued mark. When in doubt, use the Faculty's mark.
Use multiple U of T logos on the same poster.
Include irrelevant images or ones that are too distracting from the message.
Lay text on top of an image; this decreases legibility.
Stretch images or logos to fit a given space.
Use font sizes smaller than 28 pt for body text. Anything smaller will look like fineprint.
Try to explain everything in one slide. The poster is a teaser to generate interest. You can always include a uoft.me URL for further details.
Need help? Contact Jamie Hunter, Engineering Strategic Communications at jamieh@ecf.utoronto.ca
---
Computer Lab (ECF) Login Screens
Lock screen artwork appears on monitors in the ECF labs prior to logging in. They are ideal for promoting Faculty-wide campaigns (e.g., Graditude) and programs, as well as special events open to all engineering students (e.g., Dean's Town Hall). Login screens will be used to promote engineering-specific content only.
Good Example: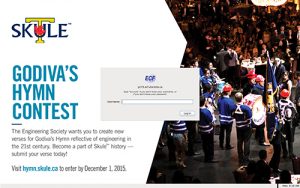 This login screen is effective:
design works around the login box
sufficient contrast for login box
clear hierarchy of information
good use of relevant image
proper logo usage
good call to action and uoft.me URL
Poor Example: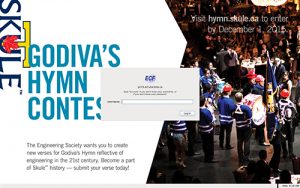 This login screen needs improvement:
text runs under login box
call to action is hard to find (top-right)
logo used incorrectly
Do:
Design your artwork have an aspect ratio of 16:10 (e.g., 1920 x 1200 px or 1680 x 1050 px).
Include the following elements:

Concise, descriptive title. Treat it like a news headline.
Short description of why students should care about what you're promoting. For events, include where and when it takes place.
Call to action: what do you want students to do once they see the poster? Visit a website? RSVP? Consider using a uoft.me URL
Branding via Faculty logos, fonts and colours.
Do not:
Include critical design elements or text near the centre of the screen. This is where the login box appears.
Use colours that don't provide enough contrast between the login box and the artwork. The most successful lock screen images have dark background colours to create enough contrast between the login box and the imagery surrounding it.
Submission: To request that an image be displayed on the ECF Login Screens, follow the link to submit your image.
---
Portal
The University of Toronto Portal is University-supported, web-based learning-management tool used by instructors in many engineering courses at U of T. Organized by course, it is the central hub for all of your course information, activities and resources. Once the instructor has made the course available, students automatically have access to this online course space via their enrollment in the course through ROSI. Portal is the official hub and information source – it should be treated as the only official communication tool.
Portal offers a wide variety of tools and function, but instructors most commonly use it to:
post course information (e.g., syllabus)
post announcements and deadlines
communicate with individual students, specific sections or the whole course via email
post student marks
accept assignments from students
Feedback from focus groups revealed that Portal is a large contributor to email volume for students. For this reason, we ask that course instructors share the following best practices with those who assist with administering course communications (e.g., TAs).
Do:
Use Portal as a place to archive course announcements, syllabi, documents, grades and logistical information: a one-stop shop for essential course details.
Consider that a message sent through Portal is still an unsolicited email that lands in student inboxes, contributing to email volume. Instead of sending several course announcements through as emails, consider creating a weekly digest of your course announcements so students receive one course-related message per week.
Inform your students of how you intend to use Portal so they know what to expect (e.g., I will send you a weekly roundup of course announcements through Portal, but it is your responsibility to check Portal daily for up-to-the-minute info.).
Encourage your students to configure their Portal settings so they do not automatically receive a notification with every post or update (unless they want to). A simple reminder to students may proactively address email volume concerns, especially for first-year students who are new to this platform.
Apply the same best practices for writing email when you are writing messages to students through Portal. Include an email signature, write succinctly, use bullet points and basic formatting so the content of your message is easy to skim.

Note: Portal email automatically appends your subject line to your course code/section information, which makes it difficult for students to discern between several messages sent through Portal for the same course.

If you are communicating with a single student (or a few) in your course, consider sending the message via your regular email program (e.g., Outlook) instead of through Portal. This allows you to include a more relevant subject line that will better flag the student's attention.
Do not:
Send every Portal announcement to students via email. Feedback from focus groups revealed that Portal was one of the larger contributors to student inboxes. Reserve this action for either weekly digests or only the most urgent/critical messages.
Post course announcements to Piazza (or other online applications/tools/platforms) but not Portal. You cannot assume that students use anything other than Portal.
Need Help?
Students experiencing issues with Portal should contact the Information Commons at help.desk@utoronto.ca
---
Online Surveys
If you plan to survey students via email, please consider that students are asked to participate in major institutional questionnaires (e.g., National Survey of Student Engagement) and course evaluations at specific times. The following are the high-priority surveys you should factor into your plans to minimize student survey fatigue:
Sept (each year) – orientation survey (undergrad)
Nov (each year) – course evaluations (undergrad)
April (each year) – course evaluations (undergrad)
Jan–Mar (2017) – National Survey of Student Engagement (undergrads in 1st and 4th year)
Jan–Feb (2018) – Multi-Institutional Study on Leadership (undergrad and grad)
---
uoft.me – Shortened U of T URLs
If you are promoting a URL, consider using U of T's URL shortener. Visit uoft.me, paste in the URL of the page you wish to promote (e.g., http://www.discover.engineering.utoronto.ca), and type in a keyword (e.g., engineering). This service will provide an original shortened URL using your keyword that will point to the desired page (e.g., uoft.me/engineering). Keep in mind that uoft.me only works with URLs that contain "utoronto.ca."
Did you know that uoft.me addresses are trackable? Add a "+" in your address bar (e.g., uoft.me/engineering+) to view user metrics on your uoft.me URL.