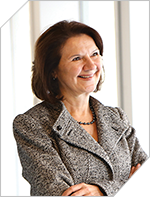 "The CEIE will allow us to take the next leap forward in the way we drive innovation, foster entrepreneurship and cultivate global engineering leaders."
— Cristina Amon Dean, Faculty of Applied Science & Engineering

The CEIE heralds a new era for U of T Engineering, further enabling our students, faculty, alumni and industry partners to work together across disciplines to address critical global challenges.
The Centre moves beyond traditional classrooms toward unique collaborative learning and design spaces, including:
Prototyping, fabrication and visualization facilities
The building also provides space for many of our multidisciplinary research centres and institutes in areas such as water, sustainable energy, robotics and mechatronics, engineering leadership, multidisciplinary design and global engineering.
The CEIE will be a vibrant hub that enables U of T Engineering to set a new standard for engineering education in Canada and position the Faculty among the most innovative in the world.
What people are saying…

"The CEIE will help foster the best in entrepreneurial engineering and we will see many innovative and exciting solutions emerge."
— George Myhal Chair, Engineering Campaign Executive Committee

"The new Centre is a fantastic idea and a great vision. It'll create a great new modern space and, more importantly, the programs that it'll house will embody all of those things that are important to a modern engineering education."
— John Bianchini CEO, Hatch Ltd.