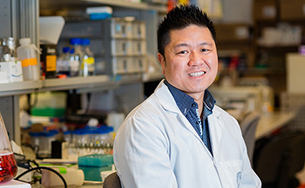 director.ibbme@utoronto.ca | 416-946-8258
bme.utoronto.ca/faculty-research/core-faculty/warren-chan/
Professor Warren Chan joined the University of Toronto's Institute of Biomedical Engineering (BME) in 2002, was promoted to associate professor in 2008 and to full professor in 2012.
He is currently a Distinguished Professor of Nanobioengineering, has been the recipient of the Kabiller International Nanomedicine Award (2015), NSERC E.W. Steacie Fellowship (2012), as well as a Canada Research Chair in Bionanoengineering from 2006-2016. He has previously served as the collaborative program director (2008-2011) in BME and is currently an associate editor of ACS Nano.
Professor Chan is an internationally recognized, leading researcher in the area of nanoengineering, where he is developing nanotechnology for the diagnosis and treatment of cancer and infectious diseases. He has published 91 peer-reviewed research articles, seven book chapters, and one book. He has been cited over 36,000 times, given 142 invited presentations and holds 15 patents/provisional patents.