Alison McGuigan, Associate Professor, Department of Chemical Engineering & Applied Chemistry and Institute for Biomaterials & Biomedical Engineering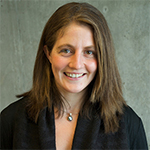 Professor McGuigan came on board at U of T in 2009. She divides her time between the Institute for Biomaterials & Biomedical Engineering and the Department of Chemical Engineering & Applied Chemistry where she is an Associate Professor. Her research focuses on building artificial tissues for understanding disease and developing novel therapies. You can watch Prof. McGuigan discussing her research in her own words from last year's TedX UofT.
When not breaking new ground with her research, Prof. McGuigan can often be found grabbing lunch at Fat Bastard Burrito's on College, "even if it is a bit of a wait!" In her spare time, she loves coming up with new adventures to entertain her 5- and 2-year olds—"the most popular of which involve cute animals."
Favourite travel destination: Hawaii
Fun fact: During her undergrad at Oxford University, Professor McGuigan did an actual fire walk on hot coals!
Jordan Daniow, Leadership Education Specialist, Institute for Leadership Education in Engineering (ILead)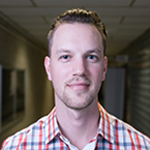 Just a little over three months ago, Jordan Daniow left Ottawa to join FASE as part of the ILead team. Since November, Jordan has been working to design and implement co-curricular leadership programming. "One of my focus areas is in supporting and helping to develop student leaders and student organizations, and tapping into the club space as a fantastic area to develop leadership skills in the University," says Jordan.
Jordan's leadership skills also extend to his life outside of work where he serves on the board of directors for Culture Shock Canada. The non-profit urban-dance-based organization focuses on dance education, professional entertainment and community enrichment programs. "I'm mostly responsible for long-term and annual strategic planning and leadership development, and also teach urban dance."
Favourite place to eat on campus: "The Cube in the Bahen building—great friendly service and good healthy food choices."
Fun fact: Jordan worked as a Governor General's Foot Guard for several years. On many occasions, he was one of the motionless guards in the red tunic and bearskin hats.