The Faculty of Applied Science & Engineering is a world-renowned community of researchers and students dedicated to solving some of the world's most pressing challenges through collaborative and multidisciplinary research and experiential education. Through rigorous technical training, and unparalleled extracurricular and professional experience opportunities, we prepare the next generation of engineering leaders and change makers to unlock the future's boundless potential.
OUR DEPARTMENTS, DIVISIONS AND INSTITUTES are among the top-ranked in their fields in Canada for their innovations in engineering education and research:
Professor Christopher Yip began his term as Dean of the Faculty of Applied Science & Engineering on July 2, 2019, after serving two years as Associate Vice-President in the University's International Partnerships Office.
Dean Yip is a leading scholar in the field of single-molecule biophysics and a faculty member with the Department of Chemical Engineering & Applied Chemistry, the Department of Biochemistry and the Institute of Biomedical Engineering. He is a Principal Investigator with the Donnelly Centre for Cellular & Biomolecular Research at the University of Toronto.
Discover more about U of T Engineering:
OUR RESEARCH is guided by six Innovation Clusters, which represent advanced research efforts that address a vast range of social, economic and industrial challenges:
Acclaimed professors across our nine academic areas challenge our students to think beyond conventional approaches to engineering. Over a quarter of our community hails from outside of Canada, and the proportion of woman faculty and students is among the highest in the country. This diversity brings new perspectives to the classroom, further enriching our collaborative learning environment.
The U of T Engineering community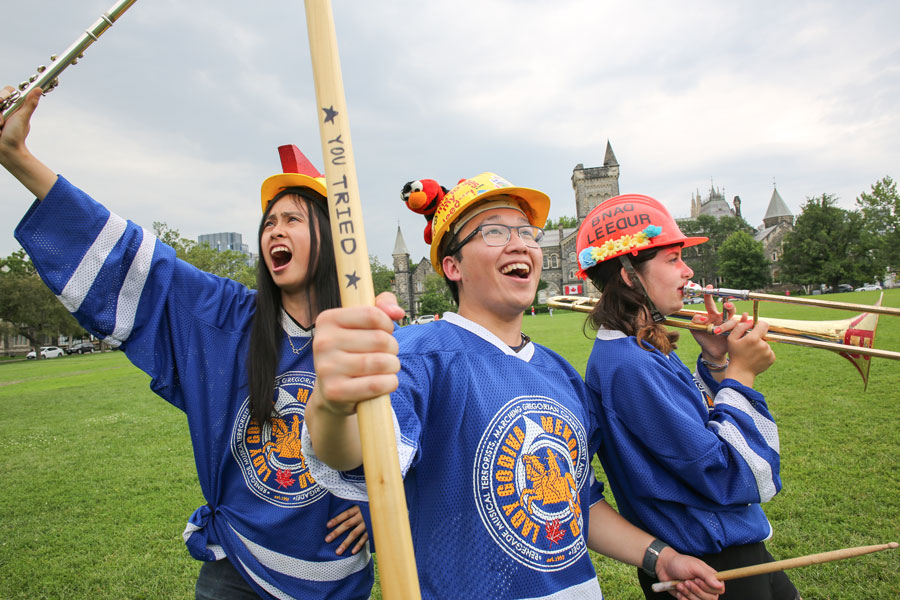 U of T Engineering is home to some of the most accomplished engineering researchers and students from across Canada and around the world. Together, we foster an unparalleled culture of excellence. This passion for innovation and collaboration shines through in our approach to education. Our professors integrate cutting-edge classroom technologies, innovative teaching techniques and multidisciplinary and global perspectives to engage students in new ways. 
These remarkable individuals receive a number of international and national awards each year for excellence in engineering education and research. Our alumni excel globally as leaders, innovators and agents of change across many industries and settings.
Our Faculty has evolved over time to include a wider range of engineering programs, new technology, facilities, a broader global perspective and a more diverse community of students, faculty, researchers, industry partners and staff. It is with the same spirit and vigour that our current students and faculty continue to make strides in the field of engineering—improving the lives of others in Canada and around the world through research, entrepreneurship and philanthropy.
U of T Engineering is located on the St. George campus of the University of Toronto, situated in the heart of one of North America's most vibrant, diverse and innovative cities. Our community sits on the doorstep of world-class healthcare facilities, industries and businesses, enabling seamless collaboration and immediate impact.
TORONTO FAST FACTS:
Named one of the world's most liveable cities

Considered the best economy for young people

North America's fourth largest city

Considered the world's most diverse city, with more than 180 languages spoken
U of T Engineering Rankings 2023
RANK AMONG NORTH AMERICAN PUBLIC INSTITUTIONS
Times Higher Education (THE) - Elsevier World University Rankings for Engineering and Technology
QS World University Ranking for Engineering and Technology
Historical Faculty Leadership
Start and end dates indicate term as dean of the Faculty of Applied Science & Engineering.
Anastasios Venetsanopoulos
Breaking New Ground
Our Faculty has been a wellspring of many "firsts" since its inception in 1873. These achievements are a testament to our Faculty's commitment to an unwavering pursuit of excellence and innovation.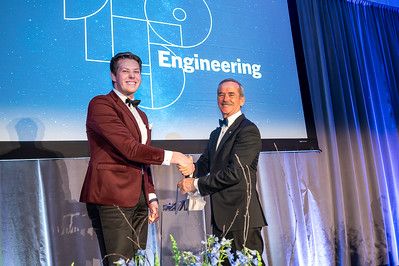 2023
U of T Engineering marks its 150th anniversary with a year of celebration and events, including a gala that featured a keynote address from Col. Chris Hadfield. Other events included Founding Day, organized the Skule™ 150 student committee, special ceremonies at Alumni Reunion, and a Faculty open house slated for September 2023.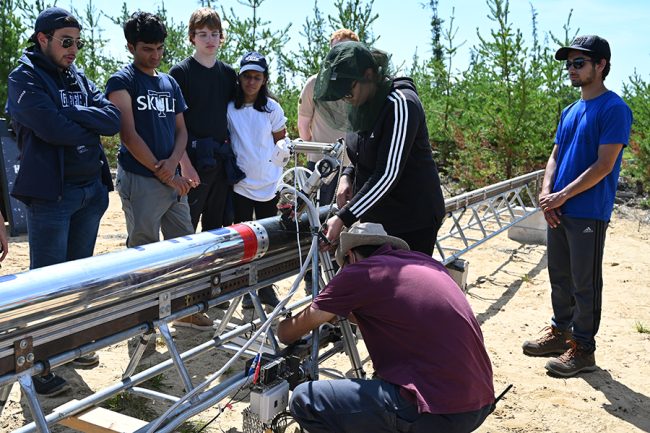 2022
The University of Toronto Aerospace Team (UTAT) Rocketry Division set a Canadian record with the launch Defiance, the first-ever experimental hybrid rocket. The event took place as part of Launch Canada, a brand-new intercollegiate rocketry competition, in which the U of T team took the top spot. Unlike traditional amateur rockets, where both the fuel and oxidizer are in solid form, hybrid rockets have a liquid oxidizer, requiring a fluid management system that can be operated remotely. Defiance reached a height of 21,000 feet.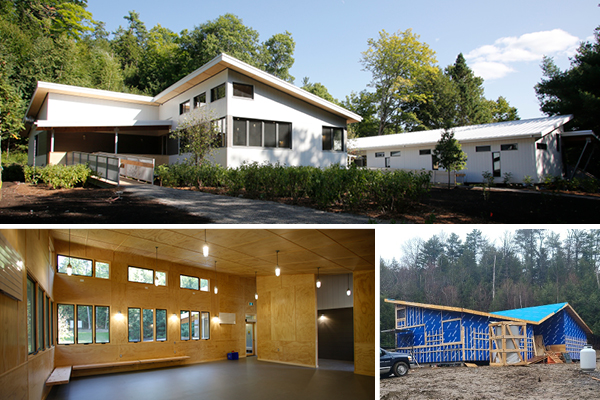 2021
For more than a century, the two-week Civil and Mineral Practicals (CAMP) course has enabled students to experience the vital interactions between the natural and built environments first-hand. In 2020–2021, thanks to the landmark Centennial Campaign for CAMP, U of T Engineering undertook a major renovation to the Survey Camp facility, located on the shore of Gull Lake, near Minden, Ont. It includes the new Heavy Construction Association of Toronto (HCAT) bunkhouse, which can comfortably house up to 96 people in separate male/female facilities and features a new communal meeting space, the MacGillivray Common Room.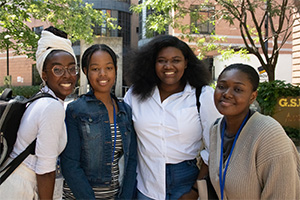 2020
The Engineering Outreach office launches Blueprint, a new academic enrichment program designed for highly motivated Black students currently in Grades 9, 10 and 11 who are interested in careers in STEM with a strong interest in engineering. Building on the success of programs such as ENGage, Blueprint provides students with a chance to extend their knowledge and connects them with mentors who can help them understand what it is like to study and work in STEM on a day-to-day basis. The program has led to others, such as the Black Applicant Support and Engagement program (BASE) which provides students with a customized experience and resources to assist them through the challenges of the university application and decision-making process.
2019
Professor Christopher Yip is appointed the 14th Dean of U of T Engineering and is the first chairholder of the Decanal Chair in Innovation. In the same year, our Faculty concluded U of T's Boundless campaign with a fundraising total of $246M, surpassing our original goal of $200M. Boundless remains the largest campaign in Canadian university history.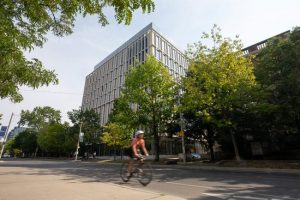 2018
Our Faculty celebrates the official opening of our newest building, the Myhal Centre for Engineering Innovation & Entrepreneurship (Myhal Centre), at 55 St. George Street.
2017
Julie Payette (ECE MASc 9T0) becomes the first U of T Engineering alumna to be appointed Governor General of Canada and Professor Molly Shoichet is named Ontario's first Chief Scientist.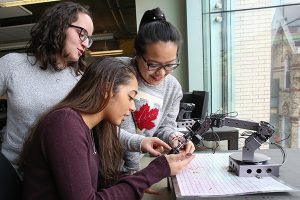 2016
For the first time in our Faculty's history, women constitute more than 40 per cent of the first-year class. In the same year, our Faculty also hosts Canada's largest STEM event for elementary school students, GO NORTH (formerly InnovateU) and Canada's first conference on engineering leadership education. Aerovelo sets a new record for the fastest human-powered vehicle on earth.
2015
Established Medicine by Design, which was supported by the largest research grant in the University's history. In the same year, our Faculty launched the Translational Biology and Engineering Program (TBEP) at the Ted Rogers Centre for Heart Research in partnership with the Faculties of Medicine and Dentistry.
2014
In collaboration with the Ontario Institute for Studies in Education, our Faculty launches Canada's first masters and PhD cross-disciplinary Engineering Education (EngEd) program. In the same year, Michael Helander (EngSci 0T7, MSE PhD 1T2), Zhibin Wang (MSE PhD 1T2) and Professor Zheng-Hong Lu of our Department of Materials Science & Engineering develop the first consumer-ready organic LED lamp.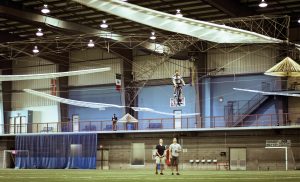 2013
AeroVelo, a Faculty startup, wins the legendary Sikorsky Prize on the international stage, for its successful flight of Atlas, a human-powered helicopter. In the same year, Professor George Eleftheriades and PhD candidate Michael Selvanayagam of The Edward S. Rogers Sr. Department of Electrical & Computer Engineering publishes a paper demonstrating the world's first "active" electromagnetic invisibility cloak.
Additionally, Professor Milica Radisic and graduate student Boyang Zhang and their collaborators at our Institute of Biomedical Engineering (BME) are part of a team that develop the first-ever method for creating living three-dimensional human heart tissue that behaves like mature heart tissue.
2012
Our Faculty introduces Canada's first Mobile App Lab in The Edward S. Rogers Sr. Department of Electrical & Computer Engineering (ECE).
2011
Established the Institute for Leadership Education in Engineering (ILead), a unique-in-Canada centre dedicated to enabling engineering students to explore and enhance their leadership potential. The institute was later renamed Troost ILead in 2018.
2010
The Engineering Positive Space Committee is formed to celebrate and recognize the diversity of our student body. In the 2015-16 academic year, the Engineering Society introduced the first non-binary student to take on the role of Godiva's Crown, which has historically been held by a woman student.