Mental Health Programs Officer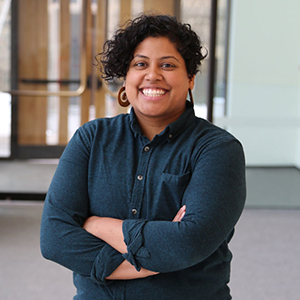 Melissa Fernandes
U of T Engineering Mental Health Programs Officer
The Faculty's Mental Health Programs Officer, Melissa Fernandes, builds capacity at U of T Engineering to support student mental health and well-being by offering mental health programs and training, conducting research and offering best practice insights. Through their work with staff, faculty and students the Mental Health Programs Officer supports U of T Engineering in fostering a culture of care and support.
We are always looking for areas that need improvement and ways we can help our community feel more connected and supported. If you have a suggestion to share, please contact Melissa Fernandes, U of T Engineering Mental Health Programs Officer at mentalhealth@engineering.utoronto.ca.
Mental Health Training and Education Opportunities
We host a variety of training and education sessions for students, staff and faculty to support student mental health and well-being. These workshops are available to all departments and academic units within the Faculty, and where possible the content will be tailored for your specific audience.
Identify, Assist, Refer (IAR)
Online Learning Module, 30 minutes – 1 hour
The University's Identify, Assist, Refer (IAR) online learning module was developed to provide all members of the U of T community with the basic skills and information needed to provide the initial support to a colleague, student or loved one experiencing challenges that are impacting their mental health.
Identify, Assist, Refer (IAR) + Your Role @ U of T Engineering
This training is offered over 1.5-2 hours
In this workshop we will discuss how to identify and assist someone who is experiencing a mental health challenge, how to make referrals to the resources available at U of T Engineering and we will review the protocols that exist within our spaces. Using case-studies and open discussions we will contextualize the IAR model to our setting.
To prepare for this training, we would like everyone to have the same baseline understanding of mental health and the IAR model. Please complete the Identify, Assist, Refer online learning module as a prerequisite for IAR+ Training.
LivingWorks Start
Online learning module, 1-2 hours
LivingWorks Start teaches how to recognize when someone is thinking about suicide and connect them to help and support. This online learning module will guide you through a four-step model to keep someone safe from suicide, and you'll have a chance to practice it with impactful simulations. Safety resources and support are available throughout the program. After you have completed the module, you will be invited to a debriefing session that will offer U of T Engineering contextualization. If you are requesting access for a group, this debriefing can be tailored to your specific role & context as well.
To request access for yourself or for multiple people in a group you are affiliated with use this button. Note: If you are requesting access for multiple people, please download and fill in this document before filling out the form (as uploading it will be required).
LivingWorks safeTALK Suicide Alertness Training
In-person training, 3.5-4 hours
LivingWorks safeTALK is an evidence-based training that helps increase individual and community capacity to recognize and respond to suicide risk. The training session provides participants with the skills to recognize signs of suicide, engage someone with thoughts of suicide, and ensure a connection to a suicide intervention caregiver. All participants will receive a certificate of completion at the end of the training.
These safeTALK training sessions are open to faculty, staff and students. Students can also receive this training though Student Life.
To sign-up or request a session for a group you are affiliated with at U of T Engineering or to request to be notified when future training dates become available, please use this registration button.
Rewriting the Guide to Self-Care for and by U of T Engineering Students
Online or In-person, 1-1.5 hours
Self-care means taking time to do things that you enjoy or that make you feel better. This participatory workshop harnesses the group's collective experiences and knowledge to create a self-care guide specific to their needs.
Other Offerings
We can also develop and help to source a wide range of workshops on topics relating to mental health and overall well-being.
Examples include:
Setting Boundaries
Time-Management
Self-Care
Imposter Phenomenon
Navigating and Registering with Accessibility Services
Navigating Wellness Services as an Engineering Student
Conflict Prevention & Management Strategies
To discuss training needs or to request a workshop, please contact mentalhealth@engineering.utoronto.ca.