Cristina Amon completed her 13-year deanship on June 30, 2019.
"Throughout our Faculty's history, our community has pushed the boundaries of what is possible, paving the way for engineering innovation. Our ability to attract and empower world-leading faculty, students and staff is enhanced by our commitment to providing an environment that fosters creativity and inspires the very best in 21st-century learning and innovation."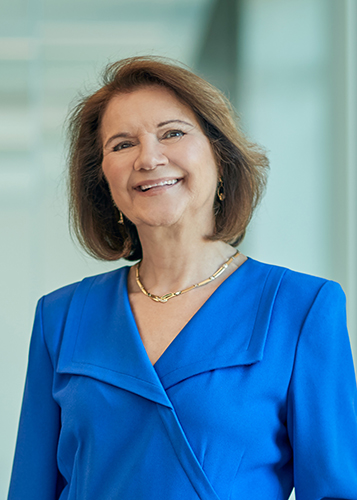 Biography
Cristina Amon is Dean and Alumni Distinguished Professor in Bioengineering at the University of Toronto's Faculty of Applied Science & Engineering. Under her leadership, Canada's #1 ranked engineering school has become a global hub for multidisciplinary research and education known for its cross-Faculty centres and institutes, innovative undergraduate and graduate programming and strong partnerships with industry and other external collaborators. Her commitment to outreach and diversity has set a new standard for Engineering schools worldwide: the number of women faculty members at U of T Engineering has almost tripled in the last decade, from 20 to 57, and the Faculty celebrated an historic 40% women first-year undergraduate enrolment for its third consecutive year in 2018. Today, U of T Engineering students, staff and faculty come from more than 100 countries around the world.
From concept to realization, Amon envisioned and spearheaded the creation of the new Myhal Centre for Engineering Innovation & Entrepreneurship. The new building elevates engineering experiential education and research through technology-enhanced active learning spaces, prototyping facilities, and design studios where students, faculty and external partners can exchange ideas and launch new ventures. The Myhal Centre, a shining beacon of innovation, is also home to a number of new institutes created under Amon's direction, including the Entrepreneurship Hatchery, the Troost Institute for Leadership Education in Engineering, the Centre for Global Engineering, the Institute for Water Innovation and the Robotics Institute.
Prior to her deanship at U of T, Amon was the Raymond J. Lane Distinguished Professor of Mechanical Engineering and Director of the Institute for Complex Engineered Systems at Carnegie Mellon (until 2006). She received her master's and doctorate degrees from MIT in 1988. Her research pioneered multidisciplinary thermal designs and made ground-breaking innovations to transient thermal management, optimization algorithms for renewable energy, nanoscale transport in semiconductors and biological systems. Her scholarly contributions are published in 16 book chapters and more than 400 articles in education and research literature.
She has been inducted into the Canadian Academy of Engineering, Hispanic Engineer Hall of Fame, National Academy of Engineering, Royal Academy of Engineering of Spain and Royal Society of Canada, and elected fellow of all major professional societies in her fields. Additional accolades include the ASEE Westinghouse Medal, ASME Heat Transfer Memorial Award and Society of Women Engineers Achievement Award, the organization's highest honour.
Professor Amon received the Engineers Canada Award for the Support of Women in 2010, was named one of the YWCA's Women of Distinction in 2011 and one of Canada's 25 Most Influential Women in 2012, and received the Ontario Professional Engineers Gold Medal in 2015 – the highest honour for engineering public service, technical excellence and professional leadership. In 2016 the Engineering Institute of Canada recognized her with its most prestigious award, the Sir John Kennedy Medal, for "outstanding services rendered to the engineering profession or noteworthy contributions to the science of engineering."
Contributions to professional societies
Active in executive boards and professional societies, Dr. Amon is chair of the research committee of NCDEAS (National Council of Deans of Engineering and Applied Science in Canada), founding chair of the Global Engineering Deans Council, and has served on advisory boards for several institutions including Stanford, UCLA, UIUC and Waterloo, and Foundations for Science, Engineering and Technology including in Brazil, Chile, Germany, Hong Kong, Ireland, Qatar and Portugal.
A Decade of Excellence
Dr. Cristina Amon is the longest serving dean (2006-2019) in our Faculty's last half century, and the first woman dean in our history. Explore a timeline celebrating selected highlights of our Faculty's achievements under her transformational leadership.