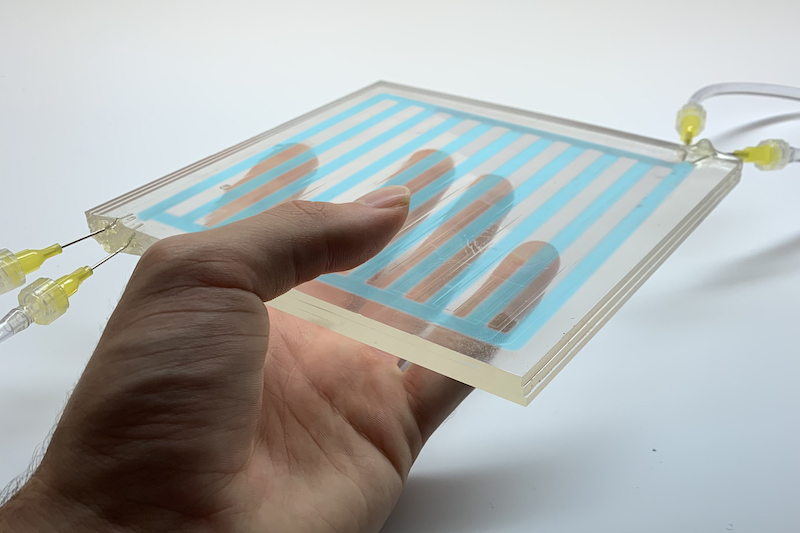 Squid skin inspires 'liquid windows'
A team led by Professor Ben Hatton (MSE) developed a multilayered fluidic system that can reduce the energy costs of heating, cooling and lighting buildings by optimizing the wavelength, intensity and dispersion of light transmitted through windows. 
The platform builds on previous innovations and was inspired by the dynamic colour-changing skin of organisms such as squid. Compared with existing technologies, it offers much greater control while keeping costs low due to its use of simple, off-the-shelf components.  
"Buildings use a ton of energy to heat, cool and illuminate the spaces inside them," says recent graduate Raphael Kay (MIE MASc 2T2), lead author of the study. 
 "If we can strategically control the amount, type and direction of solar energy that enters our buildings, we can massively reduce the amount of work that we ask heaters, coolers and lights to do." 
Racial

disparities

in maternal health

 
The United States is the world's most expensive country to give birth in. Yet, its maternal mortality rate was the highest compared to other wealthy nations, with 23.8 deaths per 100,000 births in 2020. Professor Myrtede Alfred (MIE) is conducting new research to further understand the disproportionate rates of racial and ethnic maternal health disparities in the U.S. 
"In the U.S., maternal health disparities have been recorded for more than 80 years. We know that a lot of maternal deaths are preventable. This suggests that there are issues within the clinical system," she says. 
 "How we deliver care contributes to these outcomes and the disparities in these outcomes."  
Alfred's current research starts with a year-long study examining maternal health disparities in one large health system in South Carolina. With sights on expanding to other health systems, the goal of the project is to identify systems issues that contribute to adverse maternal outcomes and disparities. These findings will support quality improvement and equity efforts and help create safer clinical systems. 
We first have to redesign systems before we start to make them more resilient, particularly if the systems are currently designed in a way that is performing disproportionately for certain populations.
– Professor Myrtede Alfred (MIE)
N

ext-generation components for electric vehicles
A partnership between Professor Olivier Trescases (ECE) and Ontario-based Litens Automotive Group is unlocking new levels of performance for electric vehicles (EVs) by developing advanced battery systems and technologies. 
The collaboration dates back to 2019, when researchers from Litens came for a tour of the University of Toronto Electric Vehicle (UTEV) Research Centre. UTEV brings together a core of multi-disciplinary researchers with wide-ranging expertise in EV technologies. Companies collaborating with UTEV gain access to leading-edge research while providing  commercial resources and industry expertise that tie the research to the real world. 
"EV technology is still at its relative infancy," says Trescases. "If you think about how far traditional internal-combustion cars have come since the 60s and 70s, you can imagine the scale of improvements that EVs are poised to achieve."
Helping robots navigate crowded spaces
A team of researchers led by Professor Jonathan Kelly (UTIAS) has found a way to enhance the visual perception of robotic systems by coupling two different types of neural networks. The innovation could help autonomous vehicles navigate busy streets or enable medical robots to work effectively in crowded hospital hallways. 
RNA-based tools to treat and prevent disease
Pathways to h

ousing self-sufficiency

 
A new partnership, powered by a Connaught Global Challenge Award, will bring several First Nations in Saskatchewan together with a team of researchers from the University of Toronto and Toronto Metropolitan University to develop new pathways toward housing self-sufficiency.