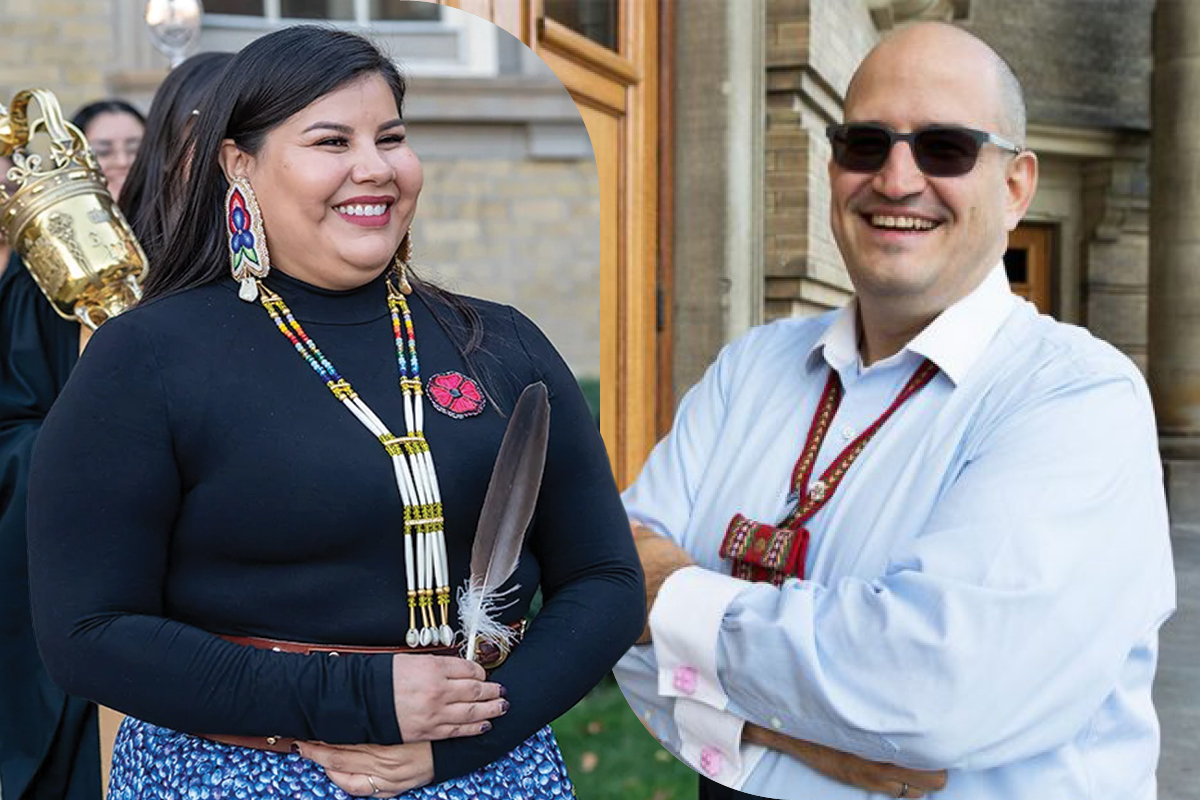 Journeying toward

reconciliation
As a sign of the university's profound respect for Indigenous communities and cultures, the Eagle Feather Bearer carries a ceremonial Eagle Feather into Convocation Hall at the outset of each convocation ceremony, followed by the bedel carrying U of T's gold-plated mace.   
"I had a very positive experience. I thought the university was very supportive in adopting and honouring the Eagle Feather Bearer role within the ceremony," says Professor Jason Bazylak (MIE). "Leading the procession was symbolic of the presence of Indigenous Peoples on Turtle Island before all of this, even before the long history here at U of T." 
The Eagle Feather Bearer was present at both the fall and spring convocation ceremonies, with Darlee Gerrard (Engineering Education PhD 2T2) serving at Spring Convocation 2023.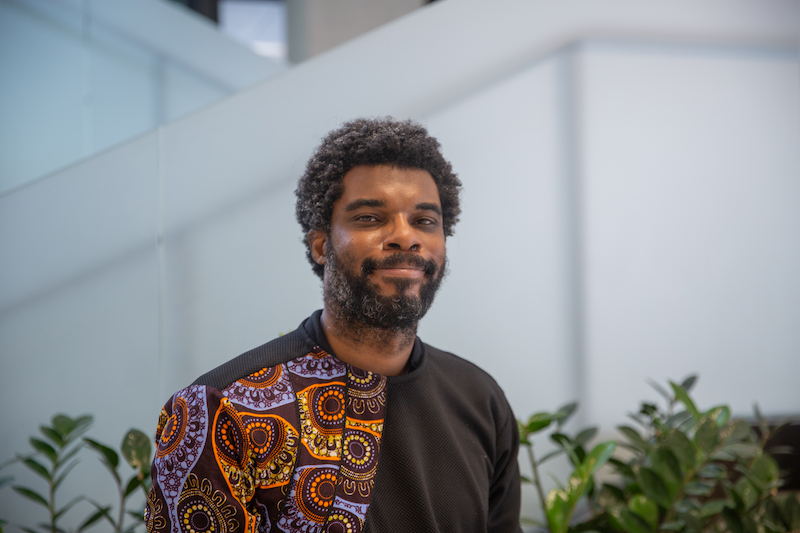 A new Dean's Advisor on Black Inclusivity
Professor Philip Asare (ISTEP, EngSci) has been appointed to the role of Dean's Advisor on Black Inclusivity at U of T Engineering.
Over the course of his three-year tenure, he plans to focus on building up the faculty recruitment and retention policy for diverse candidates. He also plans to use data that has already been collected to better understand the structural barriers that Black engineering students are facing.
"Engineering plays a huge role in the way society works," he says. "We shape the way people live, work, play, love and have fun. And so, limited participation of Black folk means those communities are left out in shaping the society around them. I want to help ensure that anyone who wants to come here to be an engineer or work on engineering can do so, and that the larger Black community can benefit from that."
My long-term vision is to embed EDI in the core work that we do across the Faculty — including research, teaching, the way we do admissions and support students — as opposed to it being a separate effort.
– Professor Philip Asare, Dean's Advisor on Black Inclusivity
Finding community and driving change through inclusive conferences
U of T Engineering's Office of Diversity, Inclusion & Professionalism is supporting several student groups as they attend conferences aimed at empowering students from groups that have been traditionally underrepresented in engineering — including women, Black students and members of the 2SLGBTQIA+ community — to bring their authentic selves to their chosen field, and to drive change across the profession.
"Students with identities that have been marginalized in engineering can feel isolated and self-select out of the field. Finding community is really important," says Marisa Sterling, Assistant Dean, Diversity, Inclusion & Professionalism at U of T Engineering.
"We are investing in conference access as one way to help advance safe and welcoming spaces for women, 2SLGBTQIA+, Black, Indigenous and students of many other identities. Students gain skills in leadership, communications, and technical knowledge that they then share back with the U of T Engineering community through presentations to the grassroots Engineering EDI Action Group, talks with lab and peer groups and/or participation in student clubs like GradSWE, QueerSphere and NSBE."
Pearson Scholars

on the transition to first year

 
Improving equity in the hiring process
When the opportunity arose to hire a new assistant professor at U of T Engineering's Department of Mechanical & Industrial Engineering, the search committee didn't want to follow the same old formula.
Engineering Positive Space: New assets available to faculty,

staff

and students
In 2022, U of T Engineering professors represented 5.5% of the total Canadian engineering professoriate, but earned 13.7% of the national and international awards for which these faculty members are eligible. Below are a few of our many award recipients from 2022-2023.